A glad, by any other name, is a spectacular, showy flower grown extensively in the home garden. Here in rural southwestern Ontario the Mennonites and Amish add long rows of glads to their kitchen gardens. The gladioli are cut in full bloom, in August or September, stacked in a bucket of cool well water, and offered for sale on the honor system at the end of the farm lane. As you drive by, the country road is like a fine art painting splashed by vibrant streaks of color, with bunches of tall stemmed gladioli in vivid reds, yellows and purples, or delicate pastels, decorating the entrance to every farm.
Growing glads can be a bit tricky in northern climes, where frost dates dictate when to plant the corms and when to pull them up again in the fall - but these gorgeous blooms are well worth the extra attention.
Stagger your plantings, setting out groups of corms two weeks apart to extend the growing and cutting season of these glorious flowers.

Beginners Guide To Planting Gladiolas
by Lee Dobbins
When to Plant
Planting Gladiolas is a popular gardening project. The beautiful summer bulbs are colorful and brighten up any garden. However, they are not just for gardens, they also work great for a bouquet of flowers for your home or even a gift. Gladiolas require a great deal of care and a keen watchful eye.

Gladiolas thrive when specific conditions are met. They love humidity and warmer regions. They require consistent water and a well-tilled, rich soil. When should you plant gladiolas? Well, it depends on where you live. Check the package of your corm bulb and determine which zone you live in. Typically, when planting gladiolas, you plant the corm bulbs during the spring season, when any threat of frost has passed.
Gladiolas are extremely sensitive to any type of frost. Therefore, planting should wait until frost has passed and if you live in an area in which frost is a regular occurance, you will need to dig up the bulbs during the fall months, before the first frost, and store them in your home. For warmer, frost-free areas of the world, you can leave your gladiolas in the ground during the winter months.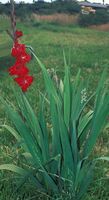 Where to plant
You want to make sure that you choose an area of your yard that receives maximum sunlight. Full sun is best, however, if you cannot get away from a partial shade, your gladiolas will still grow. When determining which area of your yard to plant in, make sure the soil is moist, but with good drainage.
When planting several gladiolas at once, ensure that you leave about four to six inches of space between corm bulbs. The more space you give your plant the bigger your plant will grow, giving you awesome gladiolas during the summer.
Care and Information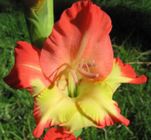 You can expect to start seeing blooms in about three months or less after planting the corms. Your stems may need some support during the growth period, therefore, you may want to consider staking them up to keep them perky and tall.
Gladiolas come in a variety of colors and you can generally expect blooms between July and September each year. They have an average height of anywhere from forty to sixty inches and are perfect for use in your home, cut flowers, or even as borders around your home or landscape.